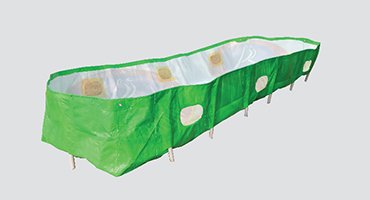 The HDPE woven Vermi Bed is manufactured by using high-end HDPE fabric sources from India's famous manufacturers. Subsequently, the premium range of vermicompost beds demonstrates several properties and features, including lightweight, UV stable, high tensile strength, excellent puncture resistance, leakproof, and a host of others. Driven by our quality, over the years, we have become a leading HDPE vermicompost bed supplier in Ahmedabad. 
Coming to the application part of the vermicompost bed, as the name suggests, the product is designed for the cultivation of vermicompost. It is a fine granular organic manure that enhances the quality of soil by nutrients present in it.
Combining our state-of-the-art infrastructure with the deep domain expertise of a brilliant team onboard, we deliver the product in various sizes, including custom-made designs. Subsequently, we have emerged as a renowned HDPE vermi bed manufacturer. Ideally, the product is available in 12ft X 4ft X 2ft dimensions. Furthermore, depending on your specific requirements, size and dimensions, we provide custom-made solutions. Hundreds of clients trust the HDPE vermi bed manufacturer.
We are a technology-driven company. Our customer-friendly mobile app, PlastiDeal helps customers from across India to buy vermi bed online India. Now you don't have to rush to the market to buy the product. Just explore the user-friendly App!
QUALITY
GSM
COLOUR
SIZE
PACKAGING WEIGHT
ISI
1)340
2)450
GREEN/WHITE
1)12X4X2
2)10X4X2
3)8x4x2
AVG 25KG
Our Products

Vermi Beds are designed for vermicomposts, an organic fertilizer for farming