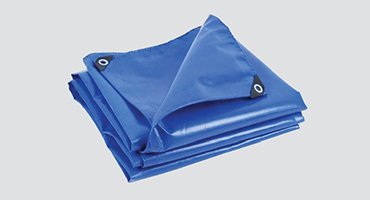 HDPE-made Tarpaulin is an excellent material admired for efficiency and durability. The material has been found to be better than traditional materials like plastic, wood, and metal. When you decide to buy heavy-duty tarpaulin for your various requirements, you are assured of strength and reliability.
We are a prominent HDPE tarpaulin manufacturer in Ahmedabad with modern infrastructure. Manufactured using the brilliant quality HDPE, our range of Waterproof tarpaulin is ideal for godowns, shelters, sheds, warehouses, machinery, etc. The Plastic tarpaulin sheet is sturdy and used widely for safely transporting machinery, edible items, and a host of other things.
Another brilliant feature of HDPE-made tarpaulin sheet India is – it's completely recyclable, making it an environment-friendly product. This is an era of rapid industrialization. Sustainable development has assumed significance.      
Tarpaulin sheet manufacturer Ahmedabad is continuously keeping track of technological changes happening in the tarpaulin manufacturing process to stay in line with changing market dynamics. As a result, the product range is contemporary and meets the requirements of various sectors and industries.   
The HDPE Tarpaulin is available in different types of colors, like black, white, blue, gray, etc. On the basis of your requirement, you can choose the colour.
QUALITY
GSM
COLOUR
WIDTH
LENGTH
SIZE
PACKAGING WEIGHT
1)PREMIUM-ISO
2)NATURAL-ISO
3)COMMERCIAL-ISO
4)ISI MARKED
1)120
2)150
3)170
4)200
5)230
6)250
7)340
1)L.YELLO/L.YELLO
2)SILVER/BLUE
3)ORANGE/N.BLUE
4)SILVER/WHITE
5)WHITE
6)BLACK
7)SILVER/BLACK
8)OTHER
Custom Made
Custom Made
6 X 9 TO
60 X 60 FT
AVG 25KG
Our Products

HDPE-made Tarpaulin is an excellent material admired for efficiency and durability.