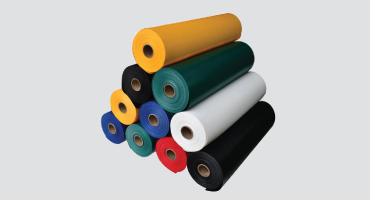 The HDPE tarpaulin roll is manufactured by using premium quality woven HDPE fabric laminated with LDPE on both sides. Over the years HDPE-made blue color tarpaulin has become one of the most sought-after products given its incredible features and properties, including lightweight, UV stable, high tensile strength, excellent puncture resistance, and leakproof among others.          
Gopinath Enterprises, a prominent tarpaulin roll manufacturer supplies HDPE tarpaulin roll range which is known for efficiency, reliability, and durability. Since the premium range is flexible in nature, it is user-friendly. You can easily use, apply, fold, and transport the roll.
The quality-driven tarpaulin has been found useful for numerous applications, including Floor lining, Cap covers, Truck covers, Poultry curtains, Machinery covers, Automobile covers, Fumigation covers, etc. Sounds great! That's the charisma of HDPE!  
Backed by vast industry experience, we are professionally qualified to deliver customized solutions to meet the specific requirements of clients. As a leading tarpaulin roll supplier Ahmedabad, we supply our range of products across India and the globe. On the basis of your domestic or business requirement, you can choose the dimension and thickness of the roll which are made by using the latest machines and technology.
QUALITY
GSM
COLOUR
WIDTH
LENGTH
DIA
PACKAGING WEIGHT
1)PREMIUM- ISO
2)NATURAL- ISO
3)COMMERCIAL- ISO
4)ISI
1)95
2)100
3)105
4)135
5)150
6)155
7)160
8)180
9)200
10)215
11)230
12)250
13)340
1)L.YELLO/L.YELLO
2)SILVER/BLUE
3)ORANGE/N.BLUE
4)SILVER/WHITE
5)WHITE
6)BLACK
7)SILVER/BLACK
8)OTHER
1)6FT
2)8FT
3)10FT
4)12FT
1)UP TO 100 KG
2)250 MTR TO 400 MTR
200MM
TO
300MM
100 KG
Our Products

Premium quality HDPE tarpaulin roll with multiple applications for industries