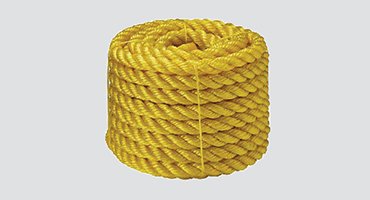 PP rope or polypropylene rope has emerged as a strong harness over the years, given its properties and qualities. For your knowledge, we would like to share a brief about this sturdy product. According to industry experts, polypropylene is a hardy polymer that possesses excellent salient features, including resistance to several types of glues and solvents. Since the rope is woven from three-strand yarn, it is highly durable and strong. Furthermore, PP has a higher melting point in comparison to a host of other polymers, as a result, it is resistant to heat and friction.
We are one of the leading rope manufacturers in Ahmedabad, Gujarat with a modern facility having the latest machines and tools. Backed by our quality-driven product range, including PP rope, we have established as a prominent PP rope manufacturer in Gujarat.
Polypropylene rope is either made from continuous monofilament. It resembles polyester and nylon, however, it is slightly thicker than polyester and nylon. The PP rope can withstand harsh weather conditions and float in water, making it ideal for many applications.
Browsing our user-friendly mobile app, PlastiDeal, you can easily buy pp rope online. If you are looking for a polypropylene rope supplier, then don't go anywhere. End your search with Gopinath Enterprises.
QUALITY
COLOUR
LENGTH
DIA
PACKAGING WEIGHT
1)PP-Virgin
2)SEMI-ISO
1)YELLOW
2)WHITE
3)BLUE
4)BROWN
5)BLACK
220 mtr/ 110 mtr
2 mm To 32 mm
AVG 40 to 45 KG
Our Products

Superior quality PP ropes suits numerous types of applications - industrial, farming, sports