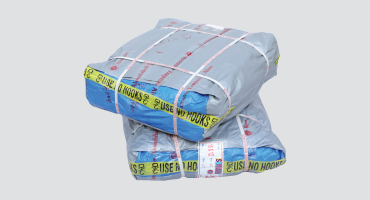 Backed by our industry expertise, we manufacture, supply, and trade quality-driven tarpaulin taka. The product is engineered by using premium quality HDPE fabric from India's famous manufacturer. The quality-driven HDPE fabric is identified with numerous properties and qualities, including lightweight, UV stable, high tensile strength, excellent puncture resistance, and leakproof among others. As a result, plastic-coated taka demonstrates amazing qualities, like flexibility, reliability, and durability.      
HDPE sheet taka is used in various applications across industries, including engineering, construction, warehouse, and transportation among others.
Considering the convenience of end users, dealers, and distributors, we are now available on various e-commerce platforms, at the same time, you can explore our mobile app to learn more about the product. From the comfort of your home or office, you can place an order for your requirement.       
With modern infrastructure and professional expertise to support, we deliver custom-made solutions.  On the basis of your industrial requirement, our professionally qualified team manufactures the tarpaulin taka. Important elements like dimension, color, thickness, etc. are taken into consideration. Furthermore, you can choose the color of your choice as well. Are you searching for HDPE tarpaulin taka in Ahmedabad, India? Don't go further. End your search with PlastiDeal.