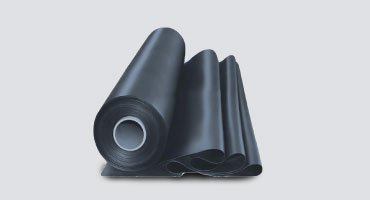 The HDPE geomembrane sheet or Pond liner is designed by using premium quality HDPE fabric. As a result, it reflects excellent properties and features, including lightweight, UV stable, high tensile strength, excellent puncture resistance, and leak-proof among others.
Given its salient features, over the years the product has become one of the most reliable liner products. What about chemicals and solvents? HDPE-based geomembrane sheet is resistant to many types of acids, solvents, and chemicals. Furthermore, the roll provides optimized strength and can withstand higher temperatures. Rest assured. Inspired by the vision to provide an excellence-driven HDPE range of products to our clients, we have emerged as one of the prominent geomembrane manufacturers in India. 
Owing to its brilliant properties, the HDPE geomembrane sheet is ideal as a liner at the base of landfills, pond lining, and water containment and is one of the most widely used HDPE-based geomembrane liners in the world, including India.
If you are looking for a geomembrane roll, then you don't have to run from one market to another. From the comfort of your home or office, you can place your order. Browse our app for further information. We are also professionally qualified to deliver custom-made solutions.